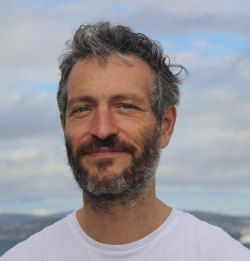 Contact Details
Institut des Géosciences de l'Environnement
54, rue Molière
38402 - Saint Martin d'Hères
France
Tel: +33 4 76 82 42 45
Fax: +33 4 76 82 42 01
Email:
ghislain.picard@univ-grenoble-alpes.fr
Ghislain PICARD
Present position
Lecturer at Université Grenoble Alpes (UGA), Observatoire des Sciences de l'Univers de Grenoble (OSUG), Institue des Géosciences de l'Environnement (IGE) formerly Laboratoire de Glaciologie et Géophysique de l'Environnement (LGGE).
Training and qualification
Promoted senior lecturer (MCF-HC), 2015
Habilitation à Diriger des Recherches (HDR, Grenoble University I, Grenoble, prepared at LGGE, 2011
PhD, Paul Sabatier University, Toulouse, prepared at CESBIO, supervised by T. Le Toan: 1999-2002
École Normale Supérieure de Lyon in physics: 1993-1997
Master in remote sensing, Paris VII: 1997
Aggregation of Physics: 1996
Research
Research at LGGE and IGE since February 2005
Observation of snow properties using microwave remote sensing in Antarctica and in the Arctic (grain size, temperature, thermal diffusivity, surface).
Snow, climate, ice-sheets, remote sensing, instrumentation.

Post-doctorate at the Centre for Terrestrial Carbon Dynamics (CTCD) headed by S. Quegan and F.I. Woodward, University of Sheffield, United Kingdom. 2002-2005
Modeling of the biosphere, remote sensing, data assimilation.
PhD: "Modeling radar backscatter from vegetation cover, and applications to remote sensing of forest cover and agricultural products" at CESBIO in Toulouse, 1999 - 2002
Electromagnetic modeling, radar remote sensing, vegetation.