Peer-reviewed papers
Publication list on ORCID
Discussion and Submitted papers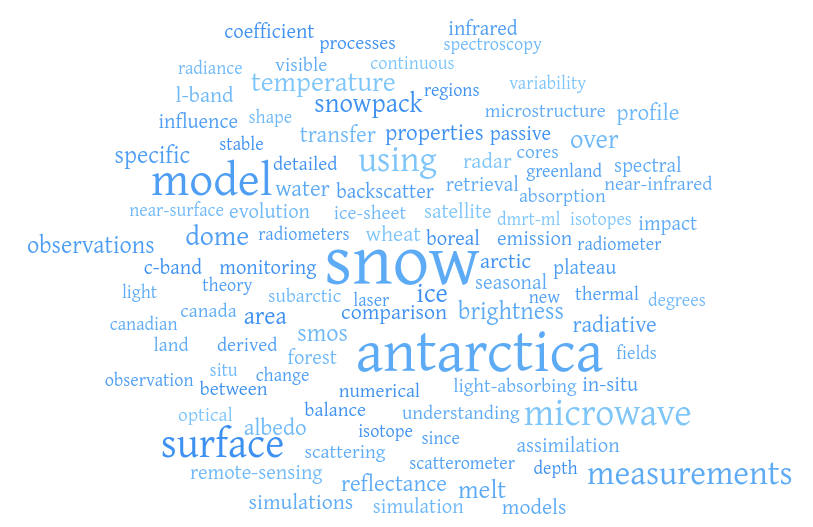 2023
2022
2021
2020
2019
2018
2017
2016
2015
2014
2013
2012
2011
2010
2009
2008
O. Magand, G. Picard, L. Brucker, M. Fily, and C. Genthon

Snow melting bias in microwave mapping of Antarctic snow accumulation

The Cryosphere, 2, 109-115, doi: 10.5194/tc-2-109-2008, 2008
F. Domine, M. Albert, T. Huthwelker, H.-W. Jacobi, A. A. Kokhanovsky, M. Lehning, G. Picard, and W. R. Simpson,

Snow physics as relevant to snow photochemistry

, Atmos. Chem. Phys., 8, 171-208, 2008 Paper
Delbart N, Picard G, Letoan T, Kergoat L, Quegan S, Woodward I, Dye D and Fedotova V, 2007,

Spring phenology in boreal Eurasia in a nearly century time-scale.

Global Change Biology volume 14, Issue 3, Page 603-614, Mar 2008 Abstract
2007
G. Picard, M. Fily, H. Gallee,

Surface melting derived from microwave radiometers: a climatic indicator in Antarctica.

Annals of Glaciology, vol 46, pp 29-34, 2007 TOC.
Melt dataset is available.
A. Mialon, Royer, A., Fily, M., Picard, G., 2007,

Daily Microwave-Derived Surface Temperature over Canada/Alaska

Journal of Applied Meteorology and Climatology, vol 46, issue 5 (May 2007), p 591-604. Abstract
Delbart N and Picard G ,

Modeling the date leaf appearance in low arctic tundra and in taiga Manuscript

, Global Change Biology, Dec 2007, 13, 2551-2562.Abstract
2006
G. Picard, M. Fily, 2006,

Surface melting observations in Antarctica by microwave radiometers: correcting 26-year long time series from changes in acquisition hours.

Remote Sensing of Environment, Volume 104, Issue 3, Pages 325-336. Abstract.
Melt dataset is available.
O. Magand, Genthon, C., Fily, M., Krinner, G., Picard, G., Frezzotti, M., Ekaykin, A.A.,

An up-to-date quality controlled Surface Mass Balance data set for the 90-180° East Antarctica sector and 1950 - 2005 period

, Journal of Geophysical Research - Atmosphere, 112, D12106, doi:10.1029/2006JD007691. Abstract.
2005
G. Picard, F.I. Woodward, M.R. Lomas, J. Pellenq, S.Quegan, M. Kennedy, 2005, "

Constraining the Sheffield Dynamic Global Vegetation Model using stream-flow measurements in the United Kingdom

", Global Change Biology , Volume 11, Issue 12, Page 2196 - December 2005 Abstract
G. Picard, S. Quegan, N. Delbart, M.R. Lomas, T. Le Toan, F.I. Woodward, 2005, "

Bud-burst modelling in Siberia and its impact on quantifying the carbon budget

", Global Change Biology, Volume 11, Issue 12, Page 2164 - December 2005 Abstract
N. Delbart, L. Kergoat, T. Le Toan, J. Lhermitte, G. Picard, 2005, "

Determination of phenological dates in boreal regions using normalized difference water index

", Remote Sensing of Environment, volume 97, issue 1, pp. 26-38, July 2005 Abstract
2004
T. Le Toan, S. Quegan, I. Woodward, M. Lomas, N. Delbart, G. Picard, 2004, "

Radar Remote Sensing of biomass combined with dynamic vegetation modelling to assess carbon budgets of forests

" Climate Change Volume 67, Numbers 2-3 / December, 2004 Abstract
G. Picard, T. Le Toan, S. Quegan, 2004, "

A Three-Dimensional Radiative Transfer Model to interpret ranging scatterometer measurements from a pine forest

", Waves in Random Media, volume 14, issue 2, pages S317 - S331 Abstract
G. Picard, T. Le Toan, S. Quegan, Y. Caraglio, T. Castel, 2004, "

Radiative Transfer modeling of cross-polarised backscatter from a pine forest using the discrete ordinate and eigenvalue method

". Transaction on Geoscience and Remote Sensing, Vol 42, No 8, pp.1720-1730 Abstract
2003
F. Mattia, T. Le Toan, G. Picard, F. Posa, A. D'alessio, C. Notarnicola, A.M. Gatti, M. Rinaldi, G. Satalino, G. Pasquariello, 2003, "

Multitemporal C-band Radar measurements on wheat fields

" , IEEE Transaction on Geoscience and Remote Sensing, Vol. 41,No 7, pp.1551-1560 Abstract
G. Picard, T. Le Toan, F. Mattia, 2003, "

Understanding C-band radar backscatter from wheat canopy using a multiple scattering coherent model

", IEEE Transaction on Geoscience and Remote Sensing, Vol. 41,No 7, pp.1583-1591 Abstract
2002
G. Picard and T. Le Toan, 2002, "

A multiple scattering model for C-band backscatter of wheat canopies

", Journal of Electromagnetic Waves and Applications, Vol. 16, No 10, pp. 1447-1466
Publications et livres en français
V. Favier, L. Arnaud, B. Jourdain, E. Le Meur, G. Picard, C. Bréant, A. Landais, M. Legrand, V. Masson-Delmotte, S. Preunkert,

Asuma : un raid scientifique pour documenter la zone côtière de l'Antarctique

, La Météorologie, 97,pp 7-9, 2017, doi : 10.4267/2042/62157
Rabatel, A., E. Berthier, Y. Arnaud, J.-P. Dedieu, M. Dumont, S. Gascoin, M. Gay, K. Guerreiro, F. Karbou, A. Kouraev, G. Picard, F. Rémy, P. Sirguey, E. Trouvé, E. Zakharova.

Télédétection satellitaire des surfaces enneigées et englacées

. La Météorologie, 97, pp 78-85, 2017, doi : 10.4267/2042/62170
Picard, G., Domine, F., Krinner, G., Arnaud, L., Libois, Q., Morin, S.

La taille des grains de neige et son influence sur le climat antarctique

. La Météorologie, 91: 39-46. 2015, doi: 10.4267/2042/57861
S. Morin, B. Lesaffre, Y. Lejeune, J.-M. Panel, L. Arnaud, G. Picard et F. Dominé,

Conductivité thermique de la neige : enjeux et mesures au sein du manteau neigeux

, Neige et Avalanches, 129, 24-25, 2010
A. Royer M. Fily, and G. Picard.

Évolution des températures de surface des régions polaires et subarctiques par télédétection satellite

. Lettre PIGB-PMRC France, no 21, 72-77, 2008.
V. Masson-Delmotte , É. Gauthier , D. Grémillet, J.-M. Huctin, D. Swingedouw (Chapitre sur la neige de G. Picard, E. Brun et F. Dominé).

Le Groenland Climat, écologie, société

, ISBN : 978-2-271-08170-4, 336p, 2016, livre CNRS Editions
R. Cuillierier, E. Fox Keller, J.-P. Gex (Chapitre sur la télédétection de la fonte en Antarctique de G. Picard).

Voir L'invisible

, ISBN : 978-2-916097-13-8, 224p, Edition Omniscience
Monographs :
Suivi des surfaces enneigées dans les régions polaires par télédétection micro-onde passive et mesures in-situ.

Habilitation à Diriger des Recherches en Sciences de la Planète - Université Grenoble I - Laboratoire de Glaciologie et Géophysique de l'Environnement (Grenoble), 98 pages. [ Download (5.6 Mo) - in French]

Modélisation radar des couverts végétaux, application à la télédétection de couverts forestiers et agricoles.

Doctorat "Télédétection" - Université Paul Sabatier - Centre d'Etudes Spatiales de la Biosphère (Toulouse), 204 pages. [download (4 Mo) - in French]
Other documents :
Modélisation de l'émission micro-onde du manteau neigeux: applications en Antarctique et au Québec

, PhD defendu par Ludovic Brucker, 2009, universite de Grenoble, France, 324 pages [download (67Mb) - in French]

Évolution des propriétés physiques de la neige de surface sur le Plateau Antarctique. Observations et modélisation du transfert radiatif et du métamorphisme

, PhD defendu par Quentin Libois, 2014, universite de Grenoble, France, 280 pages. [download (26Mb) - in French]